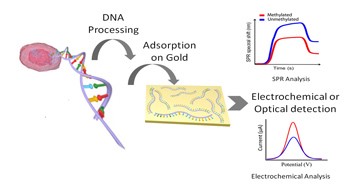 News: A single test to detect cancer
The Trau Group, led by Senior Group Leader Professor Matt Trau in Queensland University has published an article describing how to detect almost any kind of cancer with a simple colorimetric test.
This group has exploited the differential physico-chemical properties conferred by cancer cells methylation pattern to develop a quick and simple analysis, by which around 200 types of cancer with an accuracy up to 90%.
Even though the test is not more specific it does answer the question: do you have cancer?.
Abu Ali Ibn Sina, Laura G. Carrascosa, Ziyu Liang, Yadveer S. Grewal, Andri Wardiana, Muhammad J. A. Shiddiky, Robert A. Gardiner, Hemamali Samaratunga, Maher K. Gandhi, Rodney J. Scott, Darren Korbie & Matt Trau. "Epigenetically reprogrammed methylation landscape drives the DNA self-assembly and serves as a universal cancer biomarker". Nature Communications, volume 9, Article number: 4915 (2018).
Newsletter
Sign up to get receive all our latest novelties instantaneously.