Biomar counts with 750 m2 fully dedicated to the development of GMP fermentation, with process capacity up to 3000 L. Our scientists' expertise in developing bacteria, fungi and actinomycetes fermentations along with the brand-new facility, provide comprehensive CDMO manufacturing services. Our capabilities include process development and production optimization in both upstream and downstream processes.
More than 15 years of experience in microbial fermentation manufacturing guarantee a quick and efficient process performance.
The brand-new plant is equipped with:
Raw materials warehouse
Dispensing area
Inocula preparation room
QC Laboratory
ATEX processing area
Clean room
Intermediate & Final Product storage areas
Currently, all phases up to 3000 L can be covered in house. For larger volumes we can explore your requirements with our collaborators.
Check out our R&D additional capabilities in our website.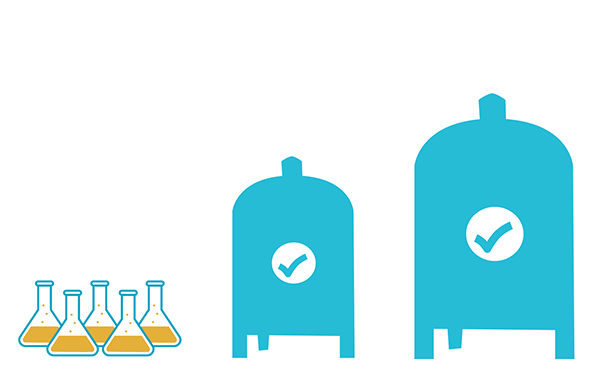 Our Key to success

Your idea is what really matters
We will take care of your project as it would be our own, protecting its confidentiality and integrating your goals as the leading force throughout the process.

Feel the confidence of being in good hands
With more than 15 years of experience, our highly qualified team will work hand in hand with you to tailor an experimental design.

Leave optimization to us
Identifying critical parameters, limiting factors and bottlenecks is our specialty.

Scale it up!
From lab to pre-industrial scale, our in-house bioreactors will deliver enough product to take your idea into the next phase.

Results is what we need
We will deliver an easy to replicate, efficient and robust process.
Our Tech Transfer Dossier will guide you through every step.

We have your back
Our technical support will be always available to follow your projects' growth.
Do you need more information?
By reading and accepting the Privacy Policy and sending any query through the forms on the Website enabled for that purpose, the user gives their express, free, informed and unambiguous consent for the collection, incorporation and treatment of their personal data by INSTITUTO BIOMAR S.A.
Likewise, the user states that all data provided by him are true and correct, and undertakes to keep them updated, communicating the changes that may occur in them to INSTITUTO BIOMAR, S.A.
In cases where the user includes files with personal data on the shared hosting servers, INSTITUTO BIOMAR, S.A. is not responsible for the breach by the user of the current regulations on data protection.
If you need to review the information about the processing of your personal data, or need to exercise your rights in this regard, send an email to the following email address: pd@biomarmt.com, or contact us at the following postal address: INSTITUTO BIOMAR S.A. Technological Park of León, Street D, Plot M-10.4, Armunia (24009-León), indicating in writing and under signature, your name, surnames, address for the purposes of notifications, photocopy of ID or Passport, and request in which it is specified application.