BIOMAR Microbial Technologies is a biotech company founded in 1996, devoted to Marine Microbiology and Natural Products Chemistry.
Marine biodiversity is assumed to be higher than terrestrial, although marine studies have been under represented for decades due to the technical difficulties in bioprospecting the ocean.
Our goal is to discover, develop and produce new compounds and products of industrial interest.
The company strategic vision relies in two fundamental concepts: INNOVATION AND SUSTAINABILITY.
We offer a unique combination of both products and services based on marine microorganisms and the compounds they produce.
The diversity of our libraries, our team technical excellence and our large experience in the design and performance of research projects, have been the basis of our success in the development of products and processes in three major industrial sectors: Human Health and Cosmetics, Agriculture and Food Industry.
2021
New Production Plant
Inauguration of new production plant with capacity of up to 3000L
2019
Pharmaceutical Sector
Signing of a contract with a leading company in the pharmaceutical sector: animal health products
2017
Biopesticides
Recognition to the biopesticides strategic plan from Junta de Castilla y León
2016
4D Pharma PLC
Product Development and Production Area transfer to 4D Pharma PLC.
2015
Human Health
Human Health reactivation. Adjustment of proceedings to Nagoya Protocol.
2014
Valent BioSciences
Extension of Valent BioSciences Corporation contract. Bio-rational products.
2013
Financial Balance
The company fulfils financial balance and profit
2012
Cosmetics
Cosmetic Antiacne ingredient reaches the market in collaboration with Infinitec
2011
EPA approval
First Biomar's EPA approved product, herbicide Thaxtomin
2010
+Production capacity
Quality Standards and increment of production capacity to 3000 L
2005
UE MIRACLE project
UEMIRACLE Project ISolation of uncultured marine microorganism.
2009
New building
Brand new building in León Tech-Park
2008
Food Industry
Food Industry edible additives new biotech sector.
2007
Biodiesel
Identification of Microalgae for biodiesel production.
2006
Share capital increase
First increase in company's share capital.
2004
Microalgae
First Spanish insdustrial microalgae library.
2003
Human Health
Human Health new therapeutic areas antiagiogenesis and neoroprotection.
2002
New CEO
Dr. Antonio Fernández appointed new CEO
2001
Production
Production kick off the Fermentation Pilot Plant
2000
Agriculture
Agrilculture biopesticides, new biotech area. R&D contract with Dupont.
1999
Human Health
Human Health new therapeutic areas antifectives and oncology
1998
Human Health
humen Health focused on OFtalmology. Colaboration with ONCE.
1997
First bioprospections
Beginning of marine bioprospections that will constitute Biomar Libraries
1996
Biomar
Biomar arises as a spin off of PharmaMar (Grupo Zeltia)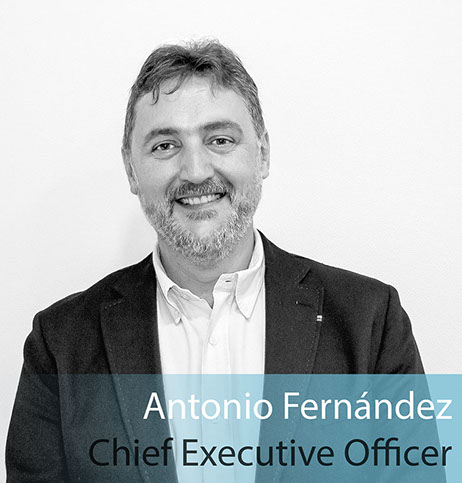 Dr. Antonio Fernández Medarde
CEO. Antonio got his PhD from the Univerisity of Texas, MD Anderson Cancer Center in Houston where he also did his postdoctoral studies in the Department of Cellular Biology and Molecular Pathology.
After that, he moved to Boston to work as a scientist under the supervision of Dr. Judah Folkman in the Department of Tumor Immunology at the Dana-Farber Cancer Institute and the Children's Hospital of Boston Surgical Research Laboratories, both associated to Harvard Medical School.
In 2001, he moved back to Spain joining the Research Unit at Hospital de León until February 2002 when he became part of Biomar's team.